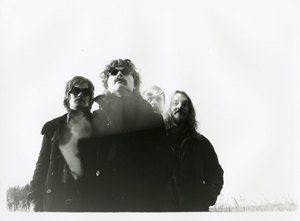 "Imagine a wide open plain with wild horses running off in the distance.
Jim Morrison is settling down to masturbate (Not for want of female
attention–the ladies are still crazy for him–but just because he wants
to). A few yards back is a young Ozzy Osbourne, watching. Suddenly a
child appears on the steps of the nearest black baptist church: This child is The Death Hawks."
--- Karl Levy, The Brooklyn Vagabond
Death Hawks on kotoisin Tampereelta. Kitarassa soi blues, bassossa jazz, kaikessa kiipparit.