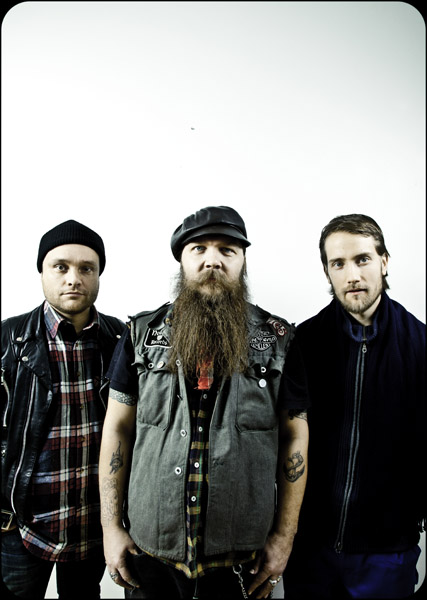 Sami Sippola: saxophones
Ville Rauhala: double-bass
Simo Laihonen: drums, flutes
Black Motor is an improvising trio from Tampere, Finland. Founded in 2005, they have released 6 albums so far:
On Duty (Kissankusi Records 2007)
Black Motor (Qbico Records 2007)
Club El Toro (Ruby Red Editora 2008)
Vaarat Vastukset (Dreamsheep Records 2008)
Never Out Of Fashion-Live In Amsterdam (Kauriala Society 2010)
Hoojaa (Kauriala Society 2011)
In addition to working actively as a trio, Black Motor works with visiting musicians and artist of other fields. They have collaborated with such musicians as Jukka Orma, Verneri Pohjola, Raoul Björkenheim, Jorma Tapio, Peter Brötzmann, Jone Takamäki, Tane Kannisto, Iro Haarla, Uffe Krokfors, Teppo Hauta-Aho, Harri Sjöström, Gianni Mimmo, Mike Koskinen, Jon Ballantyne, PK Keränen and Sonny Heinilä to name a few. Continuous concert series in Tampere featuring Black Motor with guest musicians has gained an established status in Finland during the recent years.
Their latest album "Hoojaa" was nominated for Emma Award (Finnish "Grammy") of jazz album of the year 2011.
Two new albums are coming up in october 2012: "Jumehniemi" on Sagittarius A-Star records (Italy) and quartet recording with trumpeter Verneri Pohjola on TUM records (Finland)
http://www.reverbnation.com/blackmotor
http://www.youtube.com/watch?v=AQ2E1LtDizI
http://www.youtube.com/watch?v=D2SMXE4kVRg&feature=related
http://www.youtube.com/watch?v=DPNap2IEQNs&feature=related